Several financing possibilities
Financing your training
COVID 19 – Exceptional measure FNE Reinforced
During this unprecedented health crisis, the State supports companies and their employees affected by partial unemployment by allowing them access to numerous training courses 100% supported..
The terms and conditions of the FNE Formation in a nutshell
For which companies?
All companies that have been obliged to place their employees on partial unemployment
For which employees?
Employees on partial unemployment (CDD – CDI)
Are excluded:
Apprenticeship and professionalization contracts
For what trainings?
Training action from a few hours to several per week
Upskilling (skills development plan)/li>
VAE
Skills assessment
Excluded are:
Work-study or apprenticeship training
Mandatory training such as those relating to safety
For which employees?
State funding is 100% of educational costs. The employee's remuneration remains unchanged. This aid is not capped, ie there is no maximum unit or hourly cost.
However: below an average cost of €1,500 including tax per employee, the agreement should be systematic for DIRECTTE* beyond this average cost, the request must be the subject of a more advanced instruction to verify the costs (especially since the cost is high).
The financial aid is paid: for 50% at the start of the actions for 50% after completion and production of a report The subsidy request is to be made with the DIRECTTE* of your region for individual requests or with your OPCO of reference for collective requests.
Steps to be taken by the employee's company:
Identify and choose the training action(s)
Contact Intelligences Alternatives so that the program and the training agreement can be sent to them
Transmit to your OPCO a complete file per employee concerned by the system, including the following documents :

Application for FNE-Simplified training grant and FNE training agreement
Notification of the DIRECCTE's agreement to the use of partial activity
Training program with useful information
The Intelligences Alternatives training agreement
Employee consent to training
Sworn statement from the employer that the employee concerned is in partial activity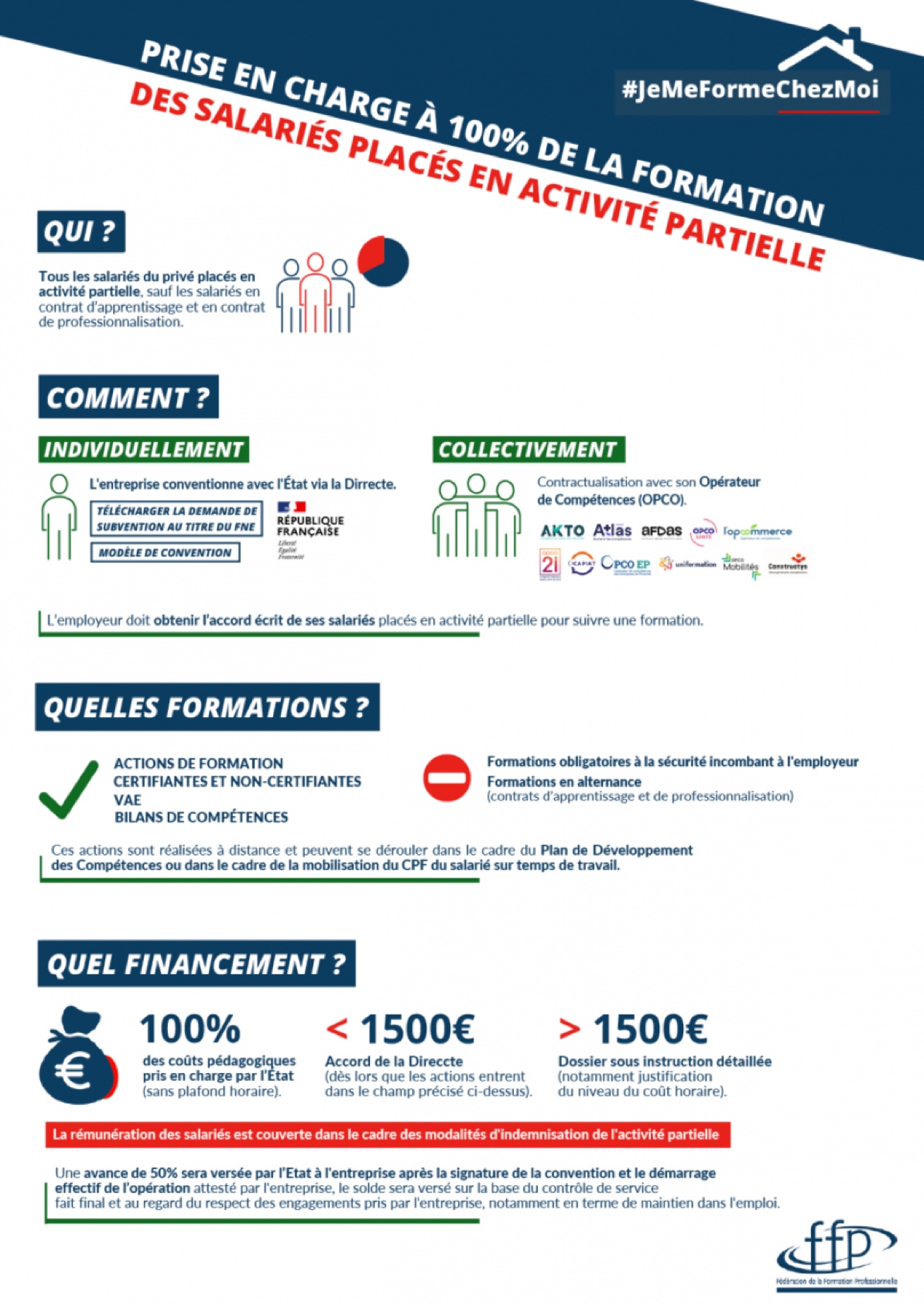 Do not hesitate to contact us, we will accompany you in all your steps.
Particular
Personal support by the trainee
Enterprise
Supported by your employer under a three-party agreement
OPCO
Support by the OPCO of the branch on which your company depends. The Skills Operators (OPCO) have replaced the OPCAs since January 1, 2019.
The main missions of OPCOs are:
to ensure the financing of apprenticeship and professionalization contracts, according to the levels of support set by the professional branches
to provide technical support to professional branches to:

to establish forward-looking employment and skills management (GPEC)
to determine the levels of support for apprenticeship contracts and professionalization contracts
to support them in their certification mission (construction of certification reference systems which precisely describe the capacities, skills and knowledge required to obtain the targeted certification)

to promote the professional transition of employees, in particular by implementing the personal training account as part of professional transition projects
to provide a local service for the benefit of very small, small and medium-sized enterprises, allowing:

to improve the information and access of the employees of these companies to vocational training
to support these companies in the analysis and definition of their needs in terms of vocational training, particularly with regard to the economic and technical changes in their sector of activity
Find your OPCO :